Wed 6 Feb 2008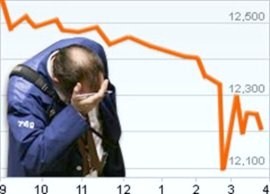 No matter how much you've read about trading, or how much experience you have as a trader, it is difficult to trade profitably in a volatile market environment like the one we are in now. A rising market is often perceived to reflect optimism and investor faith. Enthusiasm and rejuvenated interest in the markets rides high. Many investors have multiplied their money manifolds.
Now, is it time to quit? Will the bubble burst? The investor has many questions and very few options before him. Strategies for a rising market are crucial and much depends on the risk appetite of the investor.
Don't sell into the panic. Don't buy the greed. This is of course obvious to say, but harder to execute when it is actually happening. When you have extreme market conditions, the individual stock movements can be big and rapid, and they are not necessarily, and in fact, usually not at all, related to fundamentals or economics.
Will the upswing continue? This is a difficult question and much depends on the factors that contribute to the bull run. Many perceive the market to be over-heated and fear to set foot in it. Others view corrections as an opportunity to make quick money. But this calls for quick decision-making and considerable tolerance to risk.
The unfailing strategy is to buy great companies with long track records of rising stock prices and dividends. Pick them low and hold on. Over a long haul, such companies with good fundamentals will not fail you. It is not unusual to find some stocks faring poorly in a bull market and some doing exceptionally well in a bear market. A bull run implies a booming economy, low unemployment rate, high production of goods and low inflation.
Read (more…)